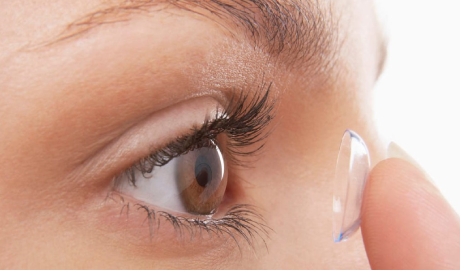 Contact lenses
Contact lenses are a means of correcting myopia, hyperopia, astigmatism and even presbyopia (with multifocal lenses).
At Markakis Optical Center there is a special department, equipped with the most up-to-date optometry machines, for the correct application of contact lenses. In the department there is an optometrist – optician that makes sure that the measurements, the selection and the application of contact lenses provide the most satisfying result.
Types of Contact Lenses:
At Markakis Optical Center we provide contact lenses of all types:
Soft
Semi-hard - Air permeable
Soft- Astigmatic
Soft with frequent replacement
Multifocal contact lenses
Therapeutic
Keratoconus contact lenses
Coloured - cosmetic
We also co-operate with all the well-known contact lens companies and have a large variety of branded contact lens solutions and preservatives.
Cosmetic contact lenses
Nowadays you have the opportunity to have a different, brighter tone to your face, changing the colour of your eyes.
We co-operate with selected contact lens companies and offer you a wide selection from which you can choose the colour of contact lenses that suits you. Blue or green, grey, honey or violet, for an intense or discreet change, you can easily get the eye colour you want.
The coloured lenses we choose for you are as easy to use as the other contact lenses and can also be applied for myopia or hyperopia.
Risk a change in the colour of your eyes and discover your bright charm!
Forms - Types of contact lenses
Hard (non- air permeable)
Semi-hard (air permeable)
Hybrid
Scleral
Soft (of hydrogel, silicone and combination of them, with or without impurities of other materials).
Design- based
Spherical
Aspherical (Myopic | Hyperopic)
Toric (For astigmatism)
Multifocal (Presbyopia)
Coloured
Based on the replacement
Daily
Weekly
Fortnightly
Monthly
Bimonthly
Quarterly
Semi-annual
Long term
Application- based
Daily (up to 10-12 hours and not during sleep)
Extended use (7 days, 15 days, 30 days)
Special contact lenses for:
Keratoconus
Therapeutic purposes
Cosmetic purposes
Prostheses
Aniridia
Albinism
Nystagmus
Cataract (Aphakia)
Traumatic cataract
Bandages
Colour blindness- Dyschromatopsia
Athletes' hyper-eyesight
Dyslexia
Leukoma
Strabismus
Photophobia
Orthokeratology contact lenses (use during sleep for eyesight correction without use of contact lenses during the day).